Two things that are blissfully obvious to anyone who walks through our front door:  we love to cook and we know how to have fun!
We are Jodi Campbell and Anne Willey, two sisters with a passion for food, family, and friends.  While we're not Beaufort natives, we quickly fell in love with the beauty and charm of this quaint little town.
We've strolled Bay Street a hundred times, lulled by the sea breezes, enchanted by the charming shops and eateries.  We've explored the Lowcountry - its rich history,  beautiful beaches and marshes, and unique cuisine.  We've fallen in love... with this town, its people, and the food!  And now we're spreading the love. :)
Our mission is to make shopping for cooking tools fun and educational.  We want you to be able to choose from among the latest and greatest in tools and gadgets.  We want to share with you tips and tricks to make your cooking experience more satisfying.
When you visit our store, you'll be immersed a cook's dream come true.  We offer special coastal cooking tools and serveware, locally-sourced Lowcountry foods and seasonings, Big Green Egg grilling tools and accessories, and an extensive collection of unique kitchen tools and gadgets, cookware, bakeware, knives, barware, and more. There's also a special section just for kids!
All of our products are hand-selected based on quality and performance, Cook's Illustrated reviews, personal experience, and special requests from you, our valued customer.
Someone once said she thought kitchen stores were some of the happiest places on earth.  We agree.  So, y'all come on in and get your happy on!
TOUR OUR STORE:
MEET OUR TEAM:
These are the ladies that make the magic happen!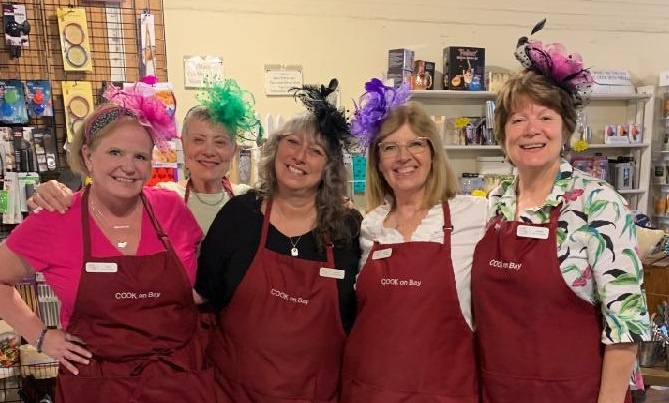 Laura Kneebone, Associate
Former Front of the House Manager at the Beaufort Bread Company; easy-going and cheerful, and chock full of creative new ideas for the store! And bonus! Laura's lovely daughter, Olivia, is occasionally on hand to help out, too!
Micki Coles, Associate
A newcomer to Beaufort, Micki has over 20 years' retail experience, including a short stint at a kitchen store! She is our resident Facebook poster - check out her creative eye!
Janet Miles, Associate
Janet is a trained home economics teacher and culinary instructor (aka "foodie"), wine educator, and small business-owner.  She loves interacting with customers, so come on in and spend some time with her!
Sheryl Dominic, Associate
Former Teacher from Maine; great friend and neighbor, whose bubbly attitude brightens every day!
Jodi Campbell, Owner
After working in corporate marketing for 20 years in Boston, it was time for a change.  So I sold the house, packed up my life, and moved to Beaufort.  Everyone's response to this when I tell them is, "Why??"  No, I'm not crazy.  :)  My sister was here and my daughter was starting college in Greenville.  Besides, I like change; it keeps life interesting. 
When I turned 40 (no, I will NOT reveal how long ago that was!), I took time off from work to attend Pastry School then owned an online chocolate shop for a few years.  I love to bake and cook, and when I got to Beaufort, one of the first things I did was look for a good kitchen store.  When I couldn't find one, I called my sister and floated the idea of opening a store.  And so, Cook on Bay was born!
Anne Willey, Jodi's Sister & Manager of Uncontrolled Daydreaming and Chief Gadget Tester
Even while spending 30 years in law, corporate, and academia, few things gave me more satisfaction in life than my family telling me how good dinner was, or my grown children asking for a favorite recipe that was mostly in my head.
We moved to the Lowcountry two years ago, where we fell in love with its people AFTER we fell in love with the food! Seafood, spices, rice, rich stews, and the freshest fruits and vegetables... we can't get enough of the flavors and methods of LC cooking.
Jodi's brainchild, Cook on Bay, grew from our shared passion for good cooking ... and needing good tools for our good cooking.
Jodi and I love to laugh at everything, and at each other, and we will laugh at you. We both are willing to work as hard as we can to achieve excellence and satisfy our patrons. And we find joy in simple things like rolling the perfect dough or licking the same spoon...at the same time.
Cook on Bay is a home for the adventurous cook as well as the novice cook, so come on in and share your passion for cooking with us sistas!
Cook on Bay is a proud member of the Downtown Beaufort Merchants Association