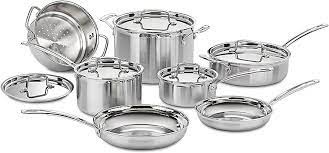 MultiClad Pro Stainless Cookware features professional triple-ply construction - a core of pure aluminum bonded to a stainless steel interior and a brushed stainless exterior - a fusion of the best materials for cooking offering unsurpassed performance.  Features include:
Almost identical construction to All-Clad tri-ply
3-ply stainless-aluminum-stainless; ~2.6mm thick; 18/10 stainless steel
Brushed magnetic stainless exterior for induction compatibility
Stainless, drip-free lids (some pieces may now have glass lids)
Cool grip handles; helper handles on large pieces
Oven safe to 550F (including lids)
Dishwasher safe (though we recommend hand washing all cookware)
Limited lifetime warranty
Made in China
We offer a broad selection of CUISINART MultiClad Pro cookware, including:
Roasters
Stockpots
Skillets
Saucepans
Other items can be special ordered.
Due to an increase in fraudulent activity on our website, we have removed all higher-priced items. Please contact our store at 843-379-2202 or [email protected] to inquire about our CUISINART cookware inventory.